Respirator "Лотос-2В" 10/50 / "Lotos-2V" 10/50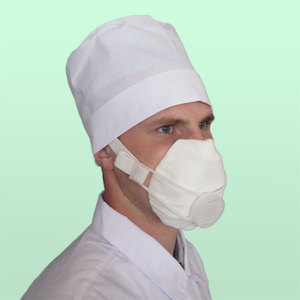 Class of filtering efficiency - FFP3.
TU 2568-002-08625805-97
GOST R 12.4.191-99
The "Лотос-2В" / "Lotos -2B" respirator is designed for protection of respiratory organs against harmful aerosols in the air, with the concentration not exceeding 40 MACs. At the same time it protects against "acid" gases and vapors (HF, HCL, SO2) at concentration of harmful substances up to 15 MACs. It is not recommended to use the respirator under conditions of oxygen lack (less than 17%) in the air (for example: in containers, tanks, wells and other isolated vessels of such type). High degree of respirators protection is ensured by versatility of sorption-filtering items features. Recommended scope: aluminum production, petrochemical, pulp and paper industry, electroplating, battery workshops. The basis of the respirator consists of a plastic frame, filter against aerosols, filter against gases and exhalation valve. Spent filters are replaced with new ones. The respirator can also be used against aerosols only without installation of filter against gases. large area of filtering element, enlarged volume of space under the mask provide for easy breathing and communications. The eExhalation valve provides additional comfort and regulates moisture sorption system by removing the vapors formed during respiration.