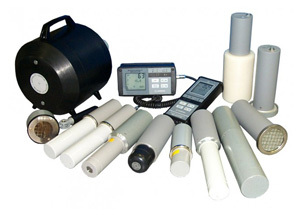 The МКС-АТ1117M / MKS-АТ1117М dosimeter-radiometer is multi-functional portable measuring device with digital display containing the information processing and indication unit (БОИ / BOI or БОИ-2 / BOI-2) with built-in Geiger counter, and external smart detecting units of various purposes.
Purpose
• Measurement of ambient equivalent dose rate and dose of X-ray, gamma- and neutron radiation,
• Density of alpha- and beta- particles flux from the contaminated surfaces,
• Measurement of neutrons flux density.
Features
• Fast adaptation to radiation field changes,
• Search for sources of X-ray, gamma-, alpha-. Beta- and neutron radiation,
• High sensitivity and wide measurement range,
• Sound and visual alarm for exceeding thresholds for the dose, dose rate and flux density,
• Geiger counter built-in into the processing and indication unit,
• Large specialized digital-analogue LCD display with backlight,
• Keeping in the device non-volatile memory of up to 500 measurement results, with ability to transfer them into PC,
• Harsh operation environments. Protection degree - IP.
Delivery scope
Basic delivery:
• Information processing unit БОИ / BOI and/or БОИ-2 / BOI-2,
• Units (by customer's choice), network controller, shoulder belt, lap belt,
• Case (briefcase),
• Operation manual.
Ordered delivery:
• Cable for connection of БОИ / BOI to PC, and SW,
• Telescope rod, 1.2 m and/or 3 m, with built-in cable,
• Headphones.