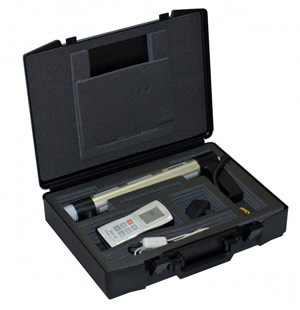 Widely used dosimeter-radiometer, reliable, with wide choice of units, which can solve all major tasks of radiation monitoring and radiometry. As a result of the device upgrade in 2008, large graphical display is introduced, software and many service functions are upgraded (see section "Features"). The device console is manufactured in two variants: УИК-05 / UIK-05 and УИК-06 / UIK-06.
Purpose
• Measurement of H*(10) and H.*(10) dose and dose ambient equivalent rate (hereinafter, the dose and dose rate) of continuous and pulsed X-ray and gamma- radiation,
• Measurement of alpha- and beta- particles flux density,
• Measurement of Н*(10) dose and Н*(10) dose rate of neutron radiation,
• Measurement of gamma-radiation flux density,
• Search and localization of radioactive sources and contaminations,
• Measurement of gamma- radiation exposure dose flux density and rate in wells and liquid media,
• Radiation survey of the area with reference to geo- coordinates using GPS sensor,
• Using for recalculation.
Features
• Automatic determination of the connected detection unit type and actuation of measurement modes for this type of detecting units,
• Indication on display of several simultaneously measured values (by gamma- and beta- channels of the БДКС-96с / BDKS-96s, БДЗБ-96б / BDZB-96b units),
• Display of dynamic scale and status messages for all monitored values (exceeding the settings, external noise, battery charge, etc.) using the special characters,
• Ability to set a large number of threshold settings - by dose, dose rate (top, preliminary top and low thresholds), beta- and alpha- contamination,
• Mode of accelerated monitoring with three threshold settings,
• Convenient keyboard with direct control buttons, display backlight and alarm signaling thresholds,
• Automatic switching between rough and sensitive channels of the БДМГ-96 / BDMG-96 unit,
• "Search" and "Detection" modes allow increase effectiveness of objects survey and to avoid operator's errors,
• Ability to connect to PC,
• Non-volatile memory for 2000 records, with reading on display or PC,
• Measurement modes with the background radiation subtraction.
Measurement modes
• With the selected measurement time,
• With non-limited measurement time (up to reaching the statistic error of 6%),
• Dose measurement (for gamma- and neutron measurements),
• Automatic (with recording results into memory with periodicity from 1 to 60 minutes),
• Recalculation device (counting pulses from unit per periods of 10, 30, 100, 300, 1000, 3000 sec),
• Searching modes "Search", "Detection" for searching units,
• "Threshold" mode for assessment of the measured radiation intensity relating to one, two or three threshold settings with indication of numeric values and "Dirty", "Clean", "Clean!" messages.
Delivery scope
Basic delivery:
• УИК-05 (УИК-05-01) / UIK-05 (UIK-05-01) or УИК-06 / UIK-06 console, by choice,
• Detecting units, by choice,
• Briefcase,
• Operation manual, passport.
Ordered delivery:
• CD with software and cable for connection to PC,
• Headsets (for УИК-05 / UIK-05; УИК-05-01 / UIK-05-01),
• Glare-shields for БДЗА / BDZA and БДЗБ / BDZB detection units,
• GPS sensor.