CEO address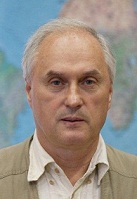 Boris V. Akakiev
Dear partners!
I am proud to introduce Joint Stock Company Isotope - a modern and dynamically developing company, which is a vital link that connects Russian isotope products manufacturers (ROSATOM State Atomic Energy Corporation entities) and clients in domestic and foreign markets.
For over 55 years we have been successfully supplying isotope products to various sectors of economy: healthcare, industry, agriculture, scientific research.
Our company's impressive background, flawless reputation, rich experience and developed infrastructure make us an important player in the isotope market and enable us to ensure on-time delivery of 65% of isotope products manufactured by the Russian nuclear industry.
Since 2009, JSC Isotope has been one of the world's largest exporters of stable and radioactive isotopes as well as products derived from them. Our company possesses a general supplier license for all types of isotope products issued by Russia's Federal Service for Technical and Export Control.
Due to our unique expertise, long-term experience, innovative technologies, long standing and mutually beneficial cooperation with our suppliers, JSC Isotope offers its clients high-quality services.
Our company has a special unit for radioisotope products temporary storage, an own set of protective containers and in-house specialized vehicle fleet. It helps JSC Isotope ensure safety at all stages of radioactive products handling.
We are always open for cooperation!